Driver Classics
Heritage Fleet
Last update:
---
1929 Pontiac 29-6
with Holden Tourer body
Pontiac was a brand established in 1926 by General Motors in the USA as a companion make to GM's more expensive Oakland brand. Pontiac was named after a famous Indian chief as was the town of Pontiac, Michigan where they were built.
The twenties and early thirties in Australia saw private operators commonly use small cabs as buses on fledgling bus route services.
Eric and Reg Driver's first two vehicles were Pontiac 29-6s with Grant Brothers 7 passenger bodies and they operated on the Camberwell – Glen Iris route service commencing on March 31 1931.
The original cabs seated seven and were configured with one seat up front next to the driver, three seats each side facing inwards and a door at the rear. The bodies were built by Eric and Reg Driver at their father's bodyworks, Grant Brothers in Station Street, Malvern a suburb of Melbourne.
Driver Classics acquired this Pontiac 29-6 in October 2003 from Ragtop Tours on the Mornington Peninsula, Victoria where it was operating 'niche market' local tours. It features a Holden built Tourer body seating 5 people and is representative of Eric and Reg's original Pontiacs.
This Pontiac 29-6 is powered by a Pontiac 200ci, 6 cylinder, petrol engine with a 3 speed constant mesh transmission. The accelerator is positioned between the clutch on the left and brake pedal on the right, which was typical of pedal layout in this era.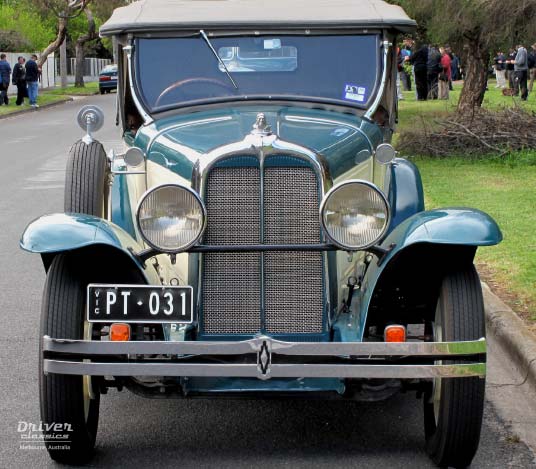 (Click on photos to enlarge) - Images free to share and distribute
---
1936 Federal with Grummet body
In 1934, Driver Bothers purchased two 12 passenger Bedfords for their newly gazetted bus run to replace their four 7 passenger cabs - two Pontiacs, a GMC and a Cleveland. These were closely followed by additional 12 passenger Federals and then in 1936, larger 19 passenger Federals began to arrive.
In 1910, the Bailey Motor Truck Company of Detroit, Michigan USA changed its name to the Federal Motor Truck Company. In the thirties and early forties, US sourced chassis' such as GMC, Diamond T, Reo, International, White, Ford and Federal were extremely popular with Melbourne private operators, but the Driver Brothers preference was for Federal, in part due to the Federal dealer/agent who impressed them greatly.
This Federal No.2 was purchased new by Driver Brothers in December 1936 and after eleven years of reliable service was sold in December 1947. This was an unusually long time to keep a vehicle in that era, but WW2 necessitated different practices.
Our Federal was discovered again in 1977 by bus enthusiast Charles Craig who found it in a barn on a farm in Bachus Marsh, Victoria. Although dusty and full of rubbish, it was in surprisingly good condition. Charles subsequently purchased the Federal and invited Eric Driver to authenticate its originality. Eric Driver confirmed it was indeed ex Driver Bros Federal, fleet number 2.
After garaging and maintaining the Federal for a number of years, in May 1989, Driver Bus Lines purchased the Federal back from Charles Craig.
The Federal chassis was built in Detroit, Michigan USA and the Grummet body in Brunswick, Melbourne. The Federal is powered by a Hercules 228ci, 6 cylinder, JXA petrol engine with a Clark 4 speed constant mesh transmission.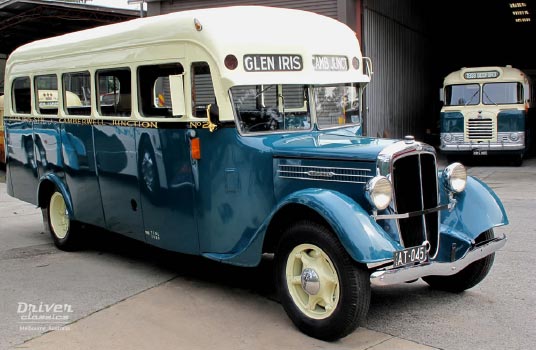 (Click on photos to enlarge) - Images free to share and distribute
---
1946 Bedford OB with Grice body
General Motors UK initially built Chevrolet light trucks and buses for the UK market but in 1931, GM UK launched the Bedford range of local light trucks and buses heavily based on the existing Chevrolet chassis. Bedford's origins date back to Vauxhall Ironworks, a company set up at Vauxhall, London in 1857 by Scottish engineer Alexander Wilson. Vauxhall moved to Luton, Bedfordshire in 1905 and was bought by American giant General Motors in 1925. There is no known documentation as to why General Motors chose Bedford as the name of its new commercial vehicle brand, but it was most likely because of the location of GM's plant in the county of Bedfordshire, in the east of England.
Although General Motors Australia sold complete Bedford OBs as forward control (flat front) buses after WW2, other bus body builders such as Grice, Sydney were able to build bodies on standard Bedford OB chassis' without modifications and retain the conventional layout, as was done with this example.
This 1946 Bedford OB originally operated in Toowoomba, QLD until the mid 1970s. It was subsequently acquired by John Masterton, a bus enthusiast and owner of Bellarine Bus Lines with John then completing a superb restoration. Driver Classics purchased the Bedford from the Masterton family in July 2000.
This Bedford OB is powered by a Bedford 214ci, 6 cylinder, petrol engine with a 4 speed constant mesh transmission.
(Click on photos to enlarge) - Images free to share and distribute
---
1947 Bedford OB with CAC body
Driver Brothers purchased Bedford OBs after the war and continued purchasing Bedford OBs, SBs, VAMs and a single YRT until the 1970s with the last OB still operating in 1967.
General Motors Australia offered Bedford OBs as complete buses including both chassis and body. The bodies were designed by General Motors Australia at their plant in Fishermans Bend, a suburb of Melbourne, but the body building task was outsourced to CAC (Commonwealth Aircraft Corporation) also at Fishermans Bend and located next door to the GM plant. CAC was primarily a builder of aircraft and the buses were built right alongside aircraft production lines.
GM Australia modified the British built chassis from conventional layout (engine out front) to forward control (flat front, body over engine). GM's Bedford OB body styling was dramatic…with enclosed wheels and the use of aluminium bright work. Some styling features appear to have been borrowed or were at least influenced by GM's unique Parade of Progress display buses used in Motorama shows throughout the USA at the time.
This Bedford OB was purchased from the Victorian Bus Preservation Association in May 1996 and received a full restoration right back to the frame. It now represents No.3 from the Driver Brothers fleet in 1947, and it was publicly unveiled in November 2007 at the Sandown Historic Commercial Vehicle Show in Melbourne.
It is powered by a Bedford 214ci, 6 cylinder petrol engine with a 4 speed constant mesh transmission.
(Click on photos to enlarge) - Images free to share and distribute
---
1948 GM PD 4151 Silversides (#349)
(Awaiting Restoration)
Prior to WW2, GM in the USA was developing a new coach which was to become known as the Silversides, because of its fluted aluminium siding. The original pre-war coach was 33 feet long and had a petrol engine whereas post-war Silversides were 35 feet long and used a diesel engine.
There were 1,643 GM PD 3751 Silversides built in 1947 and 1948. The PD 4151 followed later in 1948, with 357 being built and the major change being seat capacity increasing from 37 to 41.
Of all the Silversides built, only 10 were built with restrooms, eight being PD 3751's and two being PD 4151's.
This PD 4151 was a 'limited' model with special seating layouts, white steering wheel and a restroom. It operated for Pacific Greyhound primarily on the San Francisco to Reno, Nevada route and had Greyhound fleet number 819.
Greyhound sold the coach to Mr Harley in South Carolina who owned it for 20 years. From there it went to Mr Harley's brother, also in South Carolina and onto Brian Kenny in Georgia. Then Australian bus enthusiast Paul Wright from the Gold Coast, Queensland purchased the Silversides in 2006 and had it shipped from the USA to Australia in 2007. Driver Classics purchased the Silversides from Paul in 2014.
This PD 4151 is powered by a GM in-line 6, 2 stroke diesel engine, 426ci model 6-71, transversely rear mounted with a 4 speed column shift constant mesh transmission. The model designation PD 4151 stands for – Parlour (coach), Diesel, 41 seats, series 51.
(Click on photos to enlarge) - Images free to share and distribute
---
1948 White 798-12
White Trucks Australia imported this 798-12 route bus from the White Motor Corporation plant in Cleveland, Ohio USA in 1948, with the hope of creating interest and in turn orders, primarily from government authorities, for this very advanced route bus.
As part of its Australia wide inaugural demonstration tour, it was put into service with the New South Wales Department of Government Transport for three months in 1950 to show off its impressive performance and reliability. It was substantially more advanced than other buses of the day with integral construction, aluminium body and effortless performance from its 12 cylinder, horizontally opposed, under floor petrol engine.
Unfortunately the White 798-12 was launched just before the Commonwealth Government acted to freeze trade with the USA by restricting currency exchange to force Australia to deal with the UK and other Commonwealth countries. The 798-12 also had an unhealthy appetite for petrol and with government and private orders not forthcoming, no further White 798-12s were brought into Australia.
In May 1952, the White was advertised for sale for 6,950 pounds and in March 1953, the White was sold to Quodling Brothers, Queanbeyan, ACT where it operated the Canberra – Queanbeyan service. The Quodling Brothers repowered the White in 1958 with an AEC diesel engine which improved its fuel economy considerably.
In 1977, Quodling Brothers sold their business to Doug and Dawn Lever and the White continued in service with Lever Coach Lines.
The Levers also operated the White on the Canberra-Queanbeyan service and later, on school services until 1991, when they sold their business. They did not however, sell the White.
The Levers bought Bega Valley Bus Lines in Bega, NSW and the White was taken to Bega…for its retirement.
Between 1937 and 1948, White Motor Corporation built 1,532 model 788s and 798s. There were around 50 right hand drive White 798-12s built with all but this one operating in Central America. To our knowledge, this is the only example left in the world of a right hand drive White 798-12.
Driver Classics are proud to preserve and maintain the White, now based in Melbourne, on behalf of the owners, Doug and Dawn Lever and their family.
The 798-12 was originally powered with a White 12 cylinder, 681ci, 210hp, horizontally opposed petrol engine with a 3 speed White transmission. Today it still has the repowered AEC 11.3 litre 690 six cylinder diesel engine mounted under floor with with a 5 speed Fuller constant mesh transmission.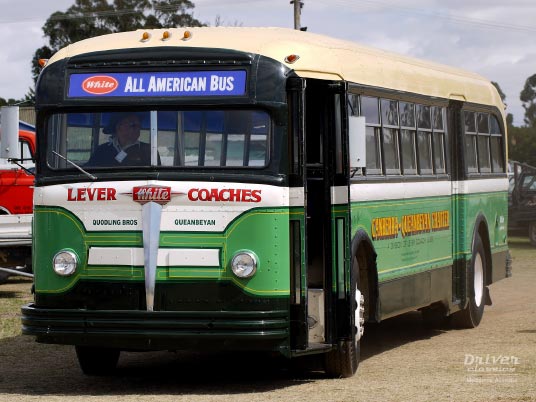 (Click on photos to enlarge) - Images free to share and distribute
---
1954 Ansair Flxible Clipper (#AF34)
In the late 1940's, Ansett Pioneer was operating International KB6's, Ford's and Federal's with Ansair bodies, but needed a more sophisticated and capable coach to operate on its long distance routes. Ansair built a prototype bus believed to be for this role, heavily influenced by Flxible styling in the US, but it was deemed too expensive to manufacture, which then led Ansett to evaluate some US models, primarily from GM and Flxible.

In August 1947, Ansett Pioneer received a special import license covering the importation of: "one (1) complete 'Pilot' model Flxible Clipper 29B1-47" from the USA into Australia along with one (1) complete range of unassembled components, the dollar values respectively $9,000 and $5,000 making a total of $14,000".
That first pilot model 1947 Flxible, originally registered MM-210, still exists today and has had a full restoration.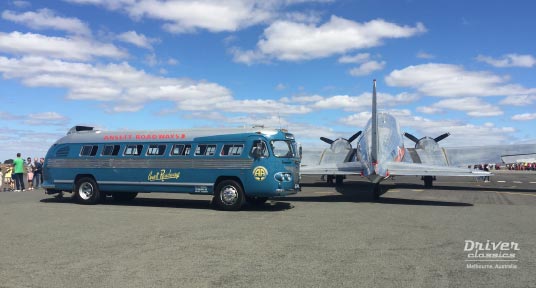 The Flxible Company was founded in 1913 as the Flxible Side Car Company by inventor and entrepreneur Hugo H Young in Ohio, USA based on the development of a flexible coupling to improve stability of motorcycle sidecars. The 'e' in flexible was dropped so the name of the company would not be an adjective and could therefore be trademarked. The company moved into commercial vehicle production and found a lucrative niche with its Clipper coach model and by 1996, when it declared bankruptcy, it was the largest transit bus manufacturer in the USA.
After the first Clipper proved itself in Australia's harsh conditions, an Ansett Airlines owned manufacturing company, Ansair, commenced building Flxible Clippers in 1951, under license to the Flxible Corporation, USA.
The Clipper was a huge success for Pioneer with 131 being built in Melbourne between 1951 and 1960. They were manufactured in Australia because of post war currency restrictions with the USA, which prevented full importation and the use of US sourced components. The Clipper coach also allowed Pioneer to establish the first non-stop service between Melbourne and Sydney in January 1955.
Our Clipper, AF34, was new to Cooks in Tasmania. In 1961, it became D17 in the Pioneer fleet when Pioneer took over the intercity routes operated by Cooks. It later became D104 for Tasmanian Coach Lines, then a workers' lunch room at an orchard and was finally 'discovered' by Bill Hardinge for potential restoration. Bill was not so much a bus enthusiast but a Clipper enthusiast!
Bill shipped the Flxible to Melbourne, without engine or transmission, where it was acquired by Driver Bus Lines in 1983 for a full restoration.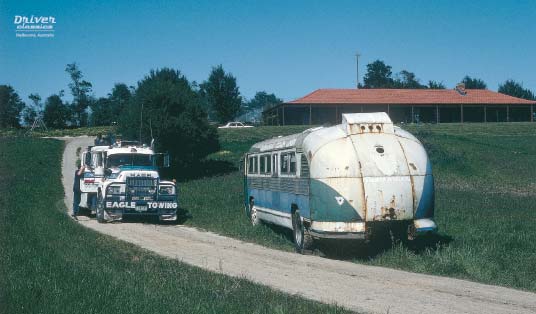 The restoration was completed by January 1985, to enable a re-enactment of the first non-stop service to Sydney at the 30th anniversary celebration, along with other Clippers and a current Pioneer MCI MC-9 coach.
This Ansair Flxible Clipper AF34, is powered by a GM Diesel 2 stroke engine, model 4-71, 284ci, in line 4 cylinder with a 5 speed Fuller constant mesh transmission. The model designation AF34 stands for – AF - Ansair Flxible, 34 - build number.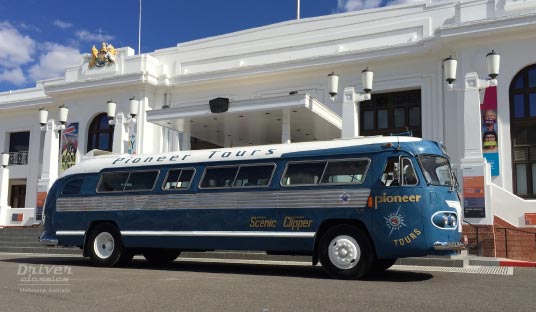 (Click on photos to enlarge) - Images free to share and distribute
---
1959 Bedford SB3 with CAC body
General Motors UK updated the Bedford 'O' Series truck chassis models to the 'S' series in 1952. They were often called the Big Bedford's and featured a larger engine and a smoother drive line. The 'S' series bus chassis was designated 'SB', with the SB3 utilising a petrol engine while the SB5 offered a diesel.
On very early Bedford SBs, CAC (Commonwealth Aircraft Corporation) body production used carryover smaller OB side windows before offering the larger design side windows, but still with flat front wind screens similar to the OB.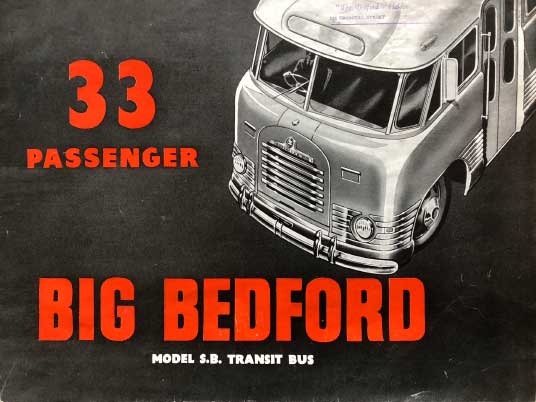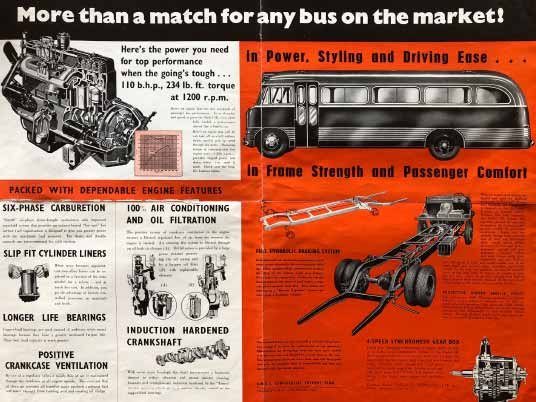 In the late 1950's, the wrap-around windscreen design was all the rage. GM then updated their flat screen look with this latest design trend that truly captured the styling of the late fifties.
The 'wrap around' Bedford, as it was commonly known, was the last model designed by GM in Australia. The next model, known as the 'Comair', was fully designed by CAC.
This SB3 was new to Willis in Vermont, eventually passing to Craig Coop of Nuline Bus Service before being acquired by Driver Bus Lines in 1994. It has been meticulously restored to represent No. 5 HHS-805, a Bedford SB3 wrap-around originally operated by Driver Brothers.
The Bedford SB3 is powered by a Bedford 300ci, 6 cylinder petrol engine with a 5 speed Turner constant mesh transmission. The model designation SB3 stands for – S – model series, B - bus, 3 - petrol engine.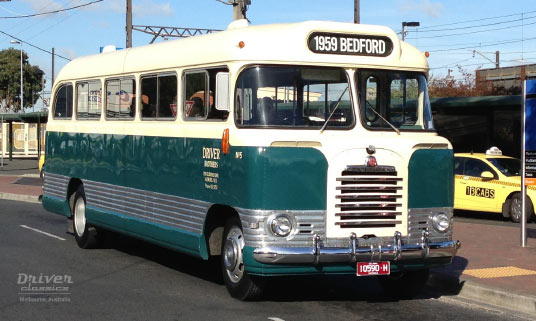 (Click on photos to enlarge) - Images free to share and distribute
---
1961 GM PD 4106 (#623)
The GM PD 4106 was arguably the most influential coach ever to operate in Australia. Building on the success of the Flxible Clipper, the PD 4106 raised the bar to an unprecedented level and set a new benchmark for the entire industry in Australia to follow.
The PD 4106 introduced many significant firsts to Australia - powerful rear mounted GM diesel engine, air conditioning, air suspension, tinted windows, large underfloor luggage capacity, restroom, a new increased length to 35 feet and incredible durability and reliability. The PD 4106, along with its successor model the PD 4107, also inspired a young Alan Denning to build a simpler Australian version at a reasonable price that revolutionised the entire Australian coach industry…the GM Denning Mono.
Built in August 1961 for Ansett Pioneer, then imported into Australia and converted to RHD by Ansair in Melbourne, this PD 4106 was first registered in Melbourne in January 1962. GM built 3,226 PD 4106's at GM Truck and Coach in Pontiac, Michigan, USA with 42 destined for Australia, 36 new and 6 ex Greyhound USA.
After years of reliable service over millions of miles, with 3 different paint schemes and various work duties spanning long distance express, tours, charter and school work, Ansett Pioneer sold this PD 4106 to McCafferty's Coaches , Toowoomba, QLD. From there it went to Dunkley's in Brisbane, QLD and finally to Les Bishop in Lexton, Victoria. Les spent over 10 years painstakingly restoring the GM in his shed in preparation for it to become a motorhome, until he had a change of heart.
Although the coach had no interior, Driver Classics purchased the GM from Les in 2015, along with another GM, the ex Turnbull, Mt Gambier PD 4106 #3163 as a parts coach, and continued the restoration, but now to become a seated coach.
To bring the PD 4106 back to a seated coach required the sourcing of many interior fittings. Using our parts coach, PD 4106 #3163, and with assistance from the Ansett Museum's PD 4106 #1225 in Hamilton, Victoria, PD 4106 #623 is once again a fully seated coach with original fittings.
This GM is powered by a GM V8 2 stroke diesel engine, 568ci model 8V71, transversely rear mounted, with a 4 speed Spicer angle drive constant mesh transmission. The model designation PD 4106 stands for – Parlour (coach), Diesel, 41 seats, series 06.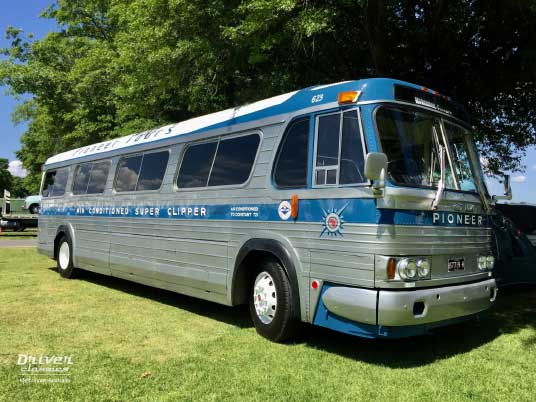 (Click on photos to enlarge) - Images free to share and distribute
---
1967 GMC Ansair Scenicruiser (#RE 185)
(Awaiting restoration)
The concept of the Australian Ansair Scenicruiser tour coach was instigated by Reg Ansett, founder of Ansett Pioneer, to essentially be an affordable, lower capital cost version of an imported American GM PD 4106, but one that was specifically designed for day tours and short multi day overnight tours.
The GM PD 4106s were extremely successful for Ansett Pioneer in their higher yielding interstate express services that criss-crossed Australia in the early 1960s. The GM PD 4106s offered unparalleled reliability and introduced many firsts for Australia including air conditioning, powerful rear mounted GM engines, aircraft style seating, tinted windows, under floor luggage compartments and a new longer length of 35 feet. Their only downside was the cost, being three times that of other makes available at the time, therefore making them cost prohibitive for the day tour market.
The tour market, and sightseeing day tours in particular, did not have the high yield of interstate express services, so an affordable version of the GM PD 4106 for tour work was a logical step. Ansair, an Ansett owned Melbourne based body builder, set about designing and building a body for the 49 Scenicruisers built between November 1965 and December 1967 with initially, all to be on Reo chassis'. But after the first 5 Reos were built, Pioneer unexpectedly switched the remaining 44 to a GMC chassis.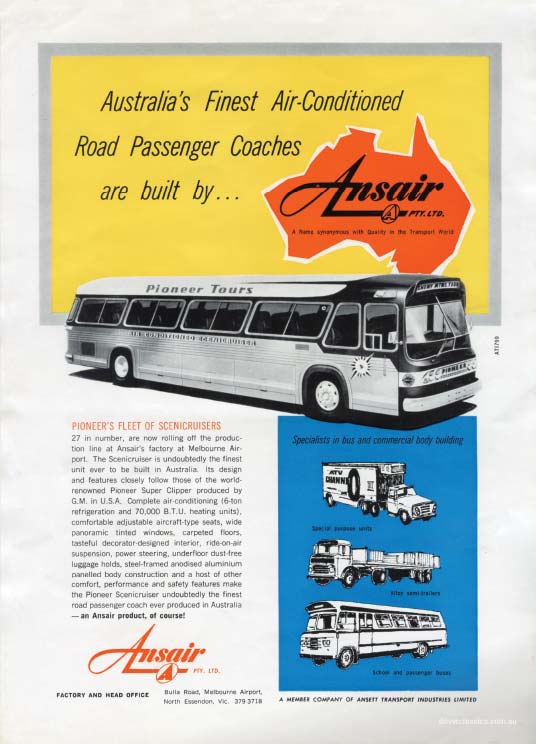 Unlike the GM Detroit Diesel 6V53 powered Reo chassis with a manual transmission, the GMC DSPA-5019 chassis was powered by a GMC Toro-flow V6 engine. The Toro-flow engine was a dieselised version of GMC's gasoline 401 engine that was made by GMC and not by GM's Detroit Diesel division. All of the GMC Toro-flow engines were later replaced with GM Detroit Diesel 6V53 engines.
Ansair's RE-145 body was a stylish large window, fully equipped tour coach body that featured an imported GM transit bus front end with a curved glass windscreen. The aluminium RE-145 body borrowed design features from the PD 4106 and boasted full air conditioning, tinted windows and reclining aircraft style seats that compared favourably to the amenities of the GM PD 4106. With the Scenicruiser's 'fishbowl' curved glass front-end, it looked part of the GM family.
In 1975, Driver Bus Lines purchased a 1966 GMC Ansair Scenicruiser, #RE159 from Ansett Pioneer. That Scenicruiser was the first air conditioned, GM powered coach that Driver Bus Lines ever operated. With the purchase of Shave Bus Service in 1986, Driver Bus Lines inherited another Ansair Scenicruiser, this time a 1965 Reo Ansair Scenicruiser #RE145.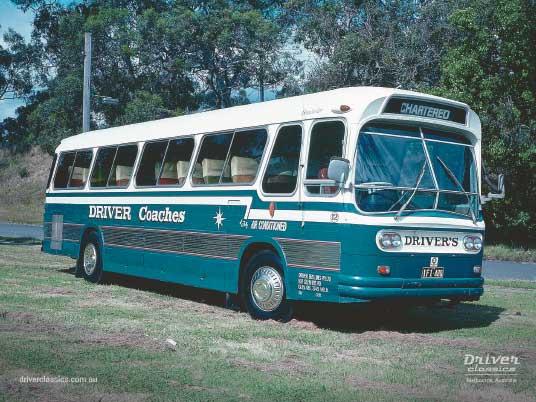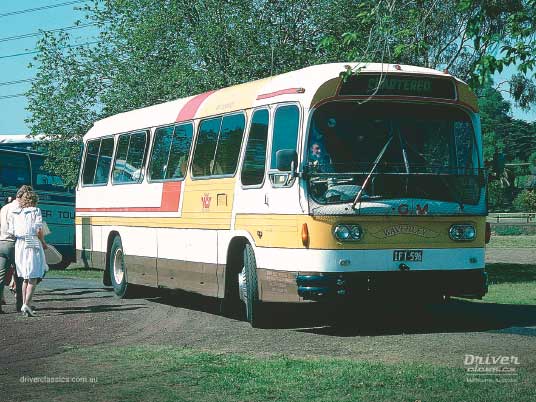 Our Driver Classics 1967 GMC Ansair Scenicruiser was purchased from Matt Smith, Sydney in July 2018. Matt used the Scenicruiser as a motorhome and it is our intention to return it back to a seated coach.
This GMC Ansair Scenicruiser is 35 feet long and powered by a GM Detroit Diesel V6 2 stroke engine, 318ci model 6V53, rear mounted in-line, with an Allison MT 640 transmission and pedal operated retarder.
---
Driver Classics Ansair Scenicruiser Brochure. Published June 2018
View Brochure

Note, you can download the brochure by right clicking and saving. You can also view full page spreads if opened in Adobe Reader.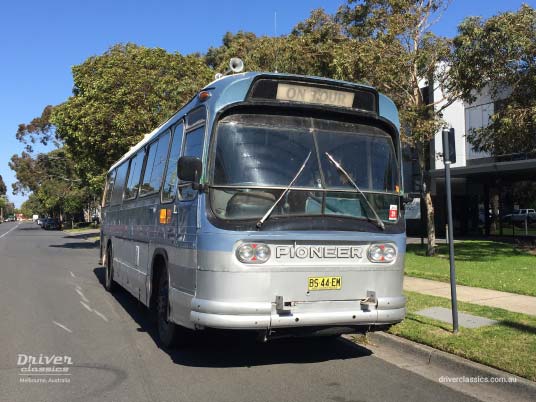 (Click on photos to enlarge) - Images free to share and distribute
---
1968 GMC PD 4107 (#1137)
The raised deck GMC PD 4107 was the evolution of the PD 4106. It retained all the features of the PD 4106 but added vastly increased luggage capacity and better viewing for passengers because of its higher deck and a half styling. Its muscular stance coined some nick names…in Australia, the Jumbo and in the US, the Buffalo. Styling was inspired by the American Greyhound GM PD 4501 Scenicruiser.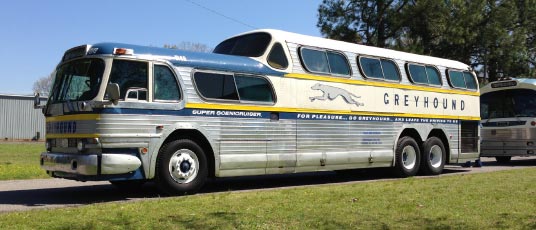 GM built 1,267 PD 4107s between 1966 and 1969 at GM Truck and Coach, Pontiac, Michigan, USA, with 27 purchased by Ansett Pioneer. This PD 4107, build number 1137 and built in May 1968, was number 719 in the Pioneer fleet and was converted to RHD by Ansair in Melbourne. Early PD 4107s were branded GM, but around 1967 the brand was changed by General Motors to GMC.
Our GMC PD 4107 passed from Ansett Pioneer to Fawlty Tours, then Wayward Bus before acquisition by Driver Classics in 2007. It also featured in the movie Ghost Rider with Nicolas Cage.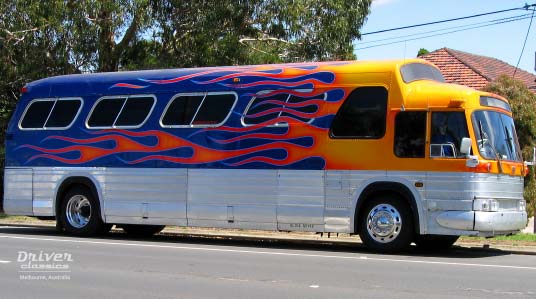 This GMC PD 4107 is powered by a GM V8 2 stroke diesel engine, 568ci model 8V71, transversely rear mounted, with a 4 speed Spicer angle drive constant mesh transmission. The model designation PD 4107 stands for – Parlour (coach), Diesel, 41 seats, series 07.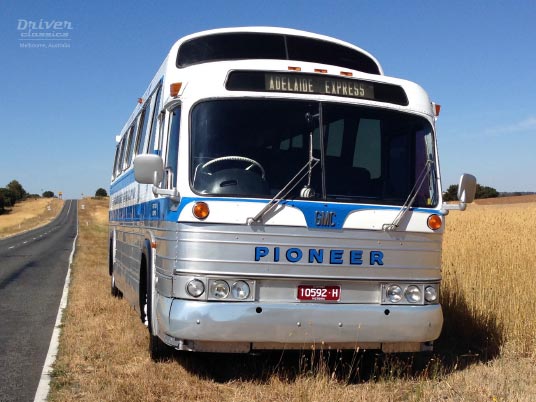 (Click on photos to enlarge) - Images free to share and distribute
---
1972 MCI MC-7 (#9520)
Harry Zoltok founded Fort Garry Motor Body and Paint Works in Winnipeg, Manitoba, Canada in 1932. In 1941 the name was changed to MCI (Motor Coach Industries) and in 1948, Western Canadian Greyhound, a subsidiary of Greyhound Corporation USA bought shares in MCI leading to full ownership by Greyhound in 1958. Today and for many decades, MCI has been the largest selling coach builder in North America and MCI's current owner, New Flyer, is the largest selling transit bus builder in North America.
MCI's 'MC' series of coaches, dates back to 1959 when MCI introduced the MC-1 Challenger, a two axle 35 foot coach with a rear mounted GM 4-71 diesel engine. The 1963 MC-5 model was the first MCI to be exported in quantity to Greyhound in the USA.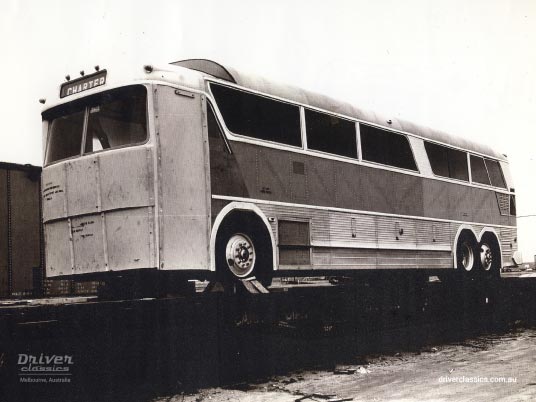 The MC-7 Challenger was the first 3 axle 40 foot coach made by MCI, predating the MC-6. MCI built 2550 MC-7s between 1968 and 1973. Ansett Pioneer placed an order for an initial batch of 10 MC-7s, when it was denied bringing 40 foot versions of the GM PD 4107 into Australia because of non-compliant dimensions. Australian vehicle length laws were however, able to be increased for the MC-7 and it became the first 40 foot coach to operate in Australia. The MC-7 was later followed by 29 MC-8s and 15 MC-9s.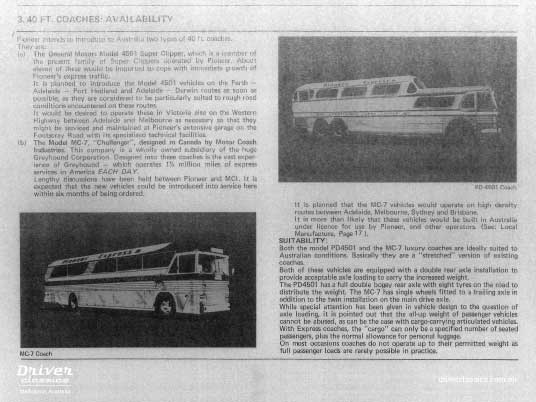 In a bid to increase loads and carrying capacity on services operating across Australia from the east coast to Perth on the west coast, Ansett Pioneer endeavoured to introduce larger second hand ex Greyhound USA, 40 foot GM PD 4501 Scenicruisers, at the same time as the MC-7s. Because of poor conditions on the main cross continent road to Perth, it was deemed inappropriate to use new 40 foot MC-7s, hence the application to utilize large, proven ex Greyhound USA flagship coaches. But it was to no avail, as the dimensions of the Greyhound Scenicruiser, had the same non-compliance issues as the regular 40 foot GMs.
Our MC-7 was purchased from Eastside Coaches, Sydney in 1994 for restoration.
The MC-7 is powered by a GM Detroit Diesel V8 2 stroke engine, 568ci model 8V71, rear mounted in-line, with a 4 speed Spicer constant mesh transmission.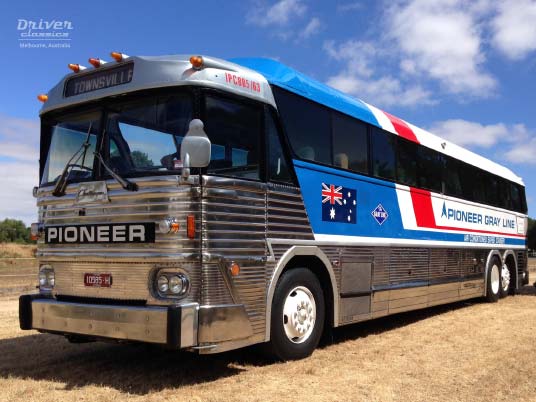 (Click on photos to enlarge) - Images free to share and distribute
---
1976 MCI MC-8 (#11964)
(Under restoration)
The MCI (Motor Coach Industries) MC-8 'Crusader' was an updated version of the very successful MC-7, the first 40 foot coach to operate in Australia.
There were 4,475 MC-8s built between 1973 and 1978 by Motor Coach Industries in Pembina, North Dakota USA and Winnipeg, Manitoba Canada.
When Ansett Pioneer ordered the MC-7s from MCI, they placed an initial order of ten with more to follow. The MC-8 had replaced the MC-7 by the time the additional vehicles were required, so Ansett Pioneer then ordered a total of 29 MC-8s that were delivered between June 1974 and February 1977.
The MC-8 was a modernised version of the MC-7. The ruggedness of the MC-7 had given way to an MC-8 with a smooth, more refined design that simply did its job as intended with the utmost reliability.
There were obvious design differences with the MC-8…the roof window of the MC-7 was gone and replaced with a low raised deck design, the destination sign above the windscreen was also gone, the header/marker lights were flush with the body and the overall shape was smoother with less fluting used on the exterior panels.
Early Ansett Pioneer MC8s had a very similar paint scheme to their MC7s but featured a new, dramatic black window look.
The MC-8's new black window sash combined with the next generation paint scheme, the 'Pepsi' red, white and blue, was impressive to say the least. It inspired a new trend of 'black windows' in Australia. As with previous Ansett Pioneer liveries, the new 'Pepsi' paint scheme was based on a Greyhound USA design.
Ansett Pioneer used the MC-8 primarily as a flagship long distance intercity express coach until the arrival of the MC-9s in 1984 and the Denning Landseers in 1985. Some MC-8s were also used in Ansett Pioneer's tour program.
Our MC-8 was purchased new by Ansett Pioneer in April 1976. Ansett Pioneer sold the MC-8 to Grenda's, Dandenong VIC and sometime later it was acquired by Rob Duke in Gembrook, VIC to be converted to a motor home. When Driver Classics located the MC-8, Rob had been working on the exterior and mechanicals and was about to gut the interior for the motorhome conversion.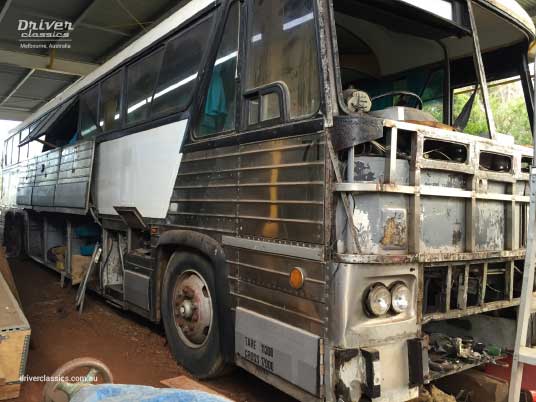 Driver Classics tried to purchase the MC-8 from Rob, but he was only interested in selling if we could find another MCI that would be suitable for him to make into a motorhome. We located a good condition MC-9 with a gutted interior in Brisbane, QLD that was perfect for Rob's use. In October 2017, Driver Classics purchased the MC-9, had it trucked to Melbourne and traded it for Rob's still seated MC-8! We believe it was the last seated MC-8 coach that remained in Australia.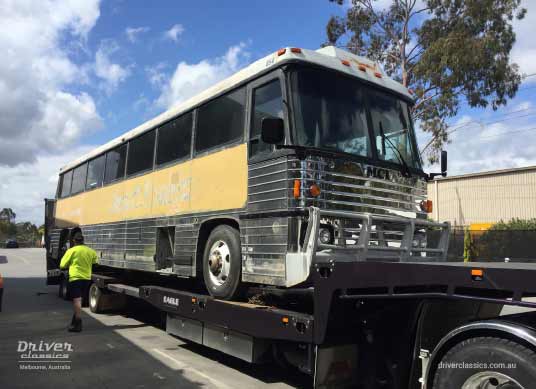 The MC-8 is powered by a GM Detroit Diesel V8 2 stroke engine, 568ci model 8V71, rear mounted in-line, with a 4 speed Spicer constant mesh transmission.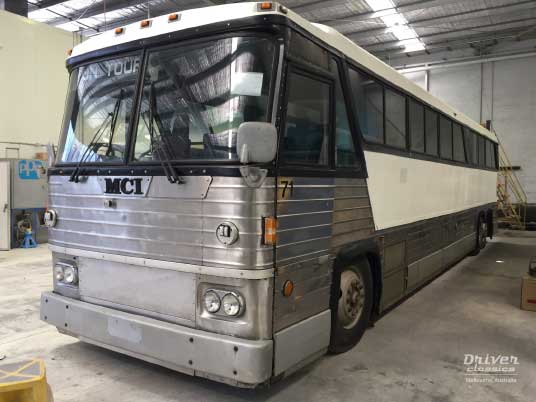 (Click on photos to enlarge) - Images free to share and distribute
---
1983 GM Denning Mono (#955)
Denning was Australia's most successful coach manufacturer from the early seventies until the early nineties, with operators nationwide purchasing GM Dennings. It was the coach that many Australian operators aspired to, including Driver Bus Lines.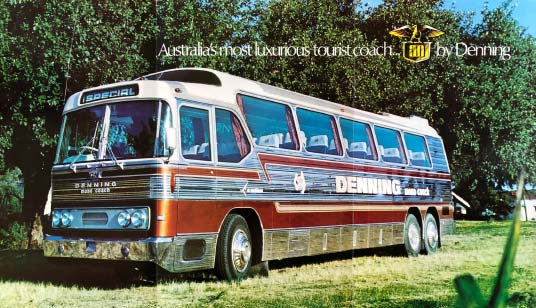 The GM Denning Mono was conceived by coach builder Alan Denning, to be the Australian version of the imported American GM coaches that Ansett Pioneer operated. The only visible branding on early Denning Monos was GM.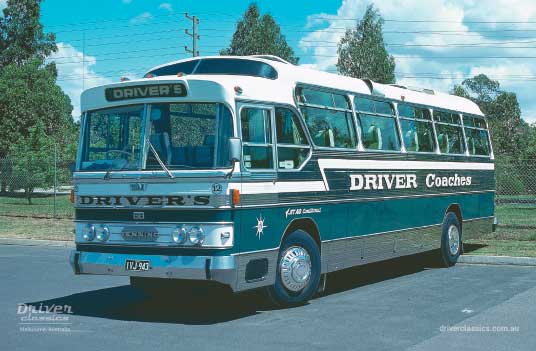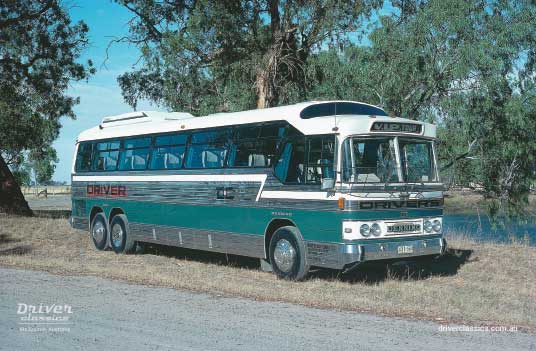 This superb example of a GM Denning Mono was purchased new by Driver Bus Lines in 1983 and remained in service until 2008, making it one of the longest serving vehicles Driver Bus Lines has operated. It performed its varying duties with the utmost reliability.
It was the last interpretation of the Mono design before the arrival of the Denning Landseer in the mid-eighties. The roof section of the deck and a half design was brought further forward than its predecessors, and when combined with a new grille, gave a distinctive look.
This GM Denning Mono, build number 955, is powered by a GM Detroit Diesel V8 2 stroke engine, 568ci model 8V71, rear mounted in- line, with a 5 speed Fuller constant mesh transmission.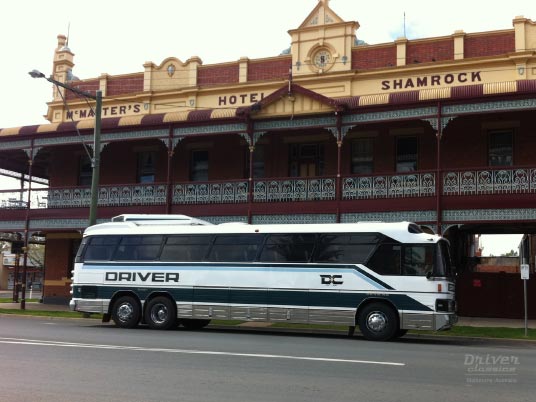 (Click on photos to enlarge) - Images free to share and distribute
---
1989 Eagle Model 20 (#90052)
The first Eagle was built in 1956 for Continental Trailways USA as a competitor to Greyhound's GM PD 4501 Scenicruiser. After failing to find a US builder who would build the Eagle on Continental Trailways terms and design, they shifted their search to the UK and Europe and eventually found a willing builder, Kassbohrer Setra in Ulm, Germany.
Those early Eagles, dubbed Golden Eagles, owing to their golden aluminium panels, featured a rear viewing lounge, a galley and tables. Next was the Silver Eagle, also from Kassbohrer Setra, which was more conventional in its specification and better suited to line haul work.
In 1960, Eagle production also included coaches manufactured by La Brugeoise in Belgium, where the Silver Eagle Model 01 was produced along with Model 01 production from Kassbohrer Setra. In 1962, Continental Trailways established its own factory in Belgium, in cooperation with La Brugeoise. The new venture was called Bus and Car NV, and it continued building the Eagle Model 01, but with a revised grille arrangement.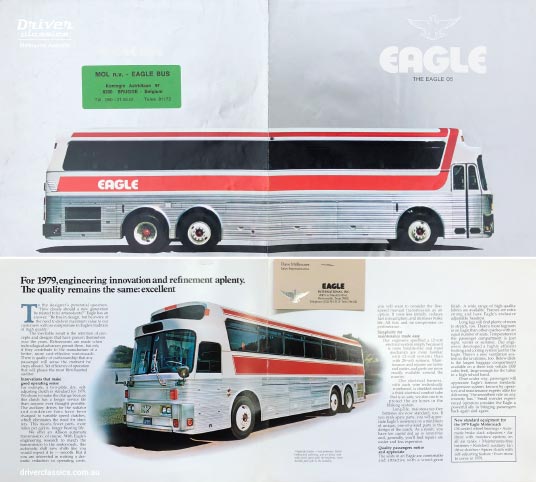 The Eagle Model 05 commenced production in 1968 at Bus and Car, Belgium and was built there until 1976. In 1974, Eagle International was set up in Brownsville, Texas USA and it also built the Model 05. In the mid-seventies, the Belgian plant was sold to MOL, NV. In 1980, the Eagle Model 10 was introduced followed by the Eagle Model 15 in 1985 and in 1987, the Eagle Model 20.
Greyhound was the prime user of Eagles in Australia with the first Eagle Model 05 arriving in 1973. All told, 42 Model 05s and 13 Model 10s were operated by Greyhound, one Model 05 each for Batterham and Trailer Tours and a Model 10 and a Model 20 for Lever Coachlines. Lever later acquired Batterham's Model 05.
Our Eagle is the Model 20, originally new to Lever Coach Lines, Queanbeyan, NSW, later passing to Narooma Bus Lines, NSW and onto collector Rob Verhagen, Gold Coast, QLD, before being acquired by Driver Classics in 2014. It was the last Eagle delivered in Australia and although it is a Model 20, it was designated as a Model 10LT to avoid re-assessment for Australian Design Rule requirements, as it was essentially the same as the Model 10.
This Eagle Model 20 is powered by a GM Detroit Diesel V6 2 stroke diesel, 552ci model 6V92TTA, rear mounted in-line, with an Allison HT750 automatic transmission.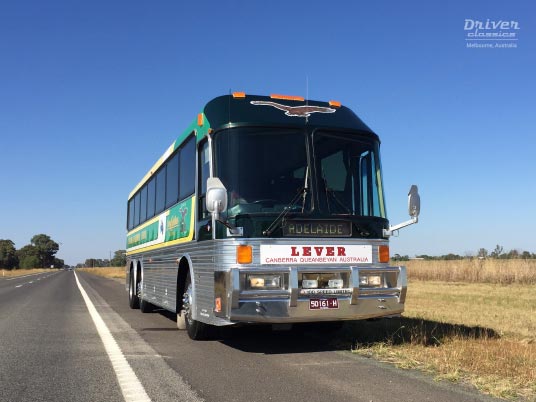 (Click on photos to enlarge) - Images free to share and distribute
---
1977 Kenworth W925 S2R
Kenworth traces its roots back to 1905 when William Piggot formed the Seattle Car Manufacturing Company, later to become Pacific Car and Foundry Company. Gerlinger Motor Company built the Gersix truck in 1915 and reincorporated as the Kenworth Motor Truck Company in 1923, its name derived from two major shareholders, H W Kent and E K Worthington.
In 1944, Paul Piggot of Pacific Car and Foundry acquired Kenworth.
In 1962, Australians Ed Cameron and George Blomfield imported seven Kenworth S-Models into Australia and set up the infrastructure for continued importation. The first large order was placed by Ansett Transport Industries for 10 Kenworth prime movers.
In 1966, Kenworth Motor Trucks was incorporated in Australia and began assembling CKD (Completely Knocked Down) trucks and by 1971, the first all Australian Kenworth, a K125CR cab over, was built at Kenworth's new plant in Bayswater, an outer Melbourne suburb.
Driver Classics 1977 Kenworth W925 S2R was acquired in October 2009 from Yarragon Truck Centre, Yarragon, Victoria. It was originally built for Cronulla Carrying Company, NSW and featured a Detroit Diesel V6, model 6V71 engine.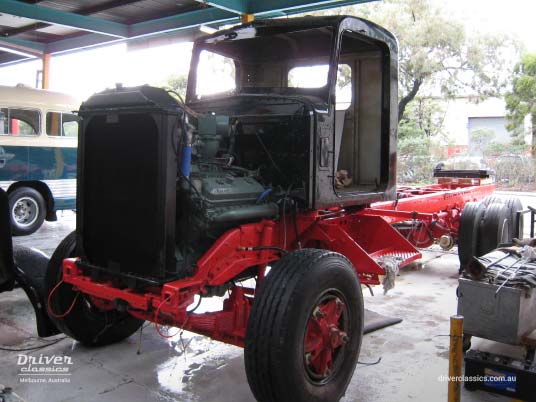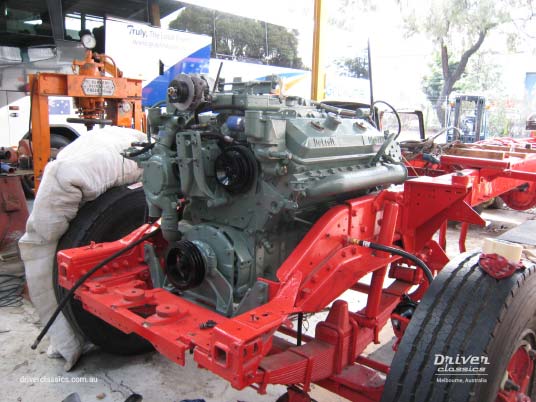 This W925 has had many modifications over the years including lengthening the bonnet to accommodate a larger Detroit Diesel V8 engine and the chassis extended to enable a refrigerated van configuration.
Our Kenworth W925 S2R is powered by a Detroit Diesel V8 2 stroke engine, 568ci model 8V71, in-line conventional, with an Eaton Fuller 10 speed Roadranger transmission.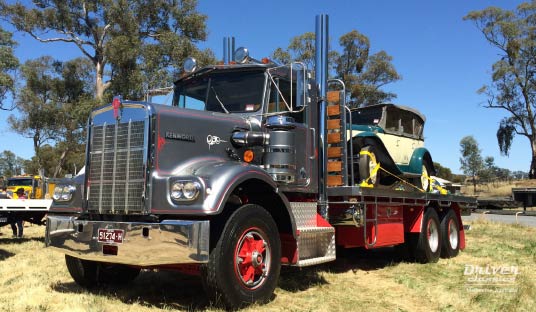 (Click on photos to enlarge) - Images free to share and distribute
---
1986 Kenworth W925 AR
By the 1980's, Kenworth had risen to become the top selling heavy duty truck on the Australian market.
Kenworth succeeded where others before had failed…surviving in the gruelling Australian outback. Kenworth established an astonishing reputation for quality Australian design, engineering and reliability that other manufacturers could only dream about. With this hard earned reputation, the legend continued to build, and to this day, Kenworth is still the number one heavy duty truck, and has achieved iconic status in Australia.
Driver Classics 1986 Kenworth W925 was originally built with a two stroke V8 Detroit Diesel model 8V92 Silver 400 engine, but was later repowered with a 12.7 litre Detroit Diesel Series 60. The torsion bar rear suspension was also replaced with Kenworth air suspension.
Our Kenworth gained dubious notoriety in its early days when it was involved in a cigarette heist of rather suspicious circumstances.
This Kenworth was new to Blue Circle Southern Cement Ltd and delivered through Gilbert and Roach, Homebush NSW. Driver Classics acquired the KW in April 2010 from Danny Epema, near Bendigo in Central Victoria.
This Kenworth W925 AR (#408182) is powered by a Detroit Diesel 4 stroke engine, 12.7 litre Series 60, 430hp with a 13 speed Eaton Fuller Roadranger transmission.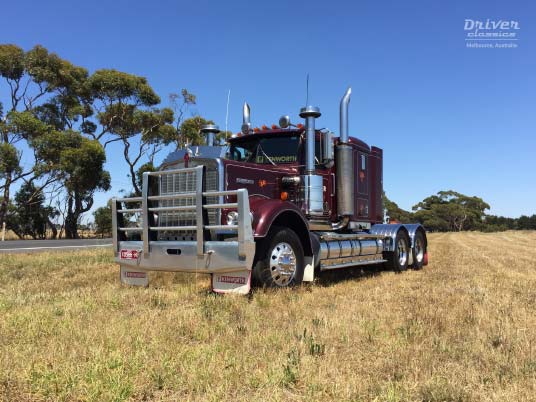 (Click on photos to enlarge) - Images free to share and distribute
---
1950 Dodge DF1-08 'Pilot House'
light duty truck
Produced in North America between 1948 and 1953, the Dodge Pilot House light duty trucks were also assembled and later manufactured by Chrysler in South Australia. The term 'Pilot House' was coined by Dodge to describe the taller cab and larger glass area which offered a better view of the road.
This Dodge was sold new in 1950 to Mr H A South, a farmer from Mundubbera, Queensland. Mr South used the Dodge on his farm until eventually it was left in a paddock to rot away.
In 1999, Mr South was having work done on a Bedford OB truck by Bill Cobden from Bill Budd's Auto in Kirra, on Queensland's Gold Coast. Mr South was struggling to pay for the work, so he struck a deal with Bill and gave him the Dodge as part payment.
Two weeks later it was purchased by Paul Wright, also from the Gold Coast. Driver Classics purchased the Dodge from Paul in October 2014.
It was initially thought to keep it 'as is' for a feature display on the back of the 1977 Kenworth W925 truck, as it is quite fascinating in its original state.
However, things change and it may end up being restored. We'll see!
The Dodge is powered by a Dodge 218ci 6 cylinder petrol engine with a 3 speed column shift transmission.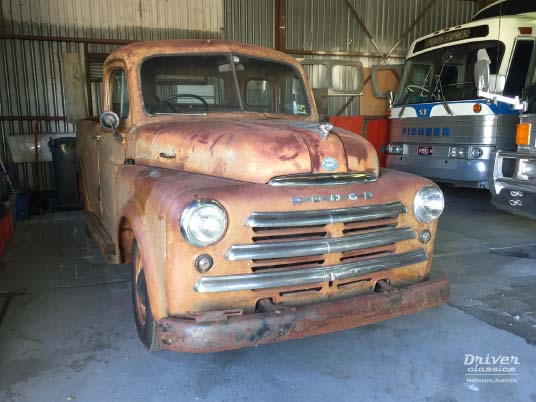 (Click on photos to enlarge) - Images free to share and distribute
---
1959 Cadillac Coupe de Ville
Simply awesome - Excessive and outrageous styling with the world's largest tail fins on a production automobile! Cadillac's design philosophy at the time was heavily influenced by jet aircraft and the global space race. This can be seen in the tail light design representing the exhausts of a jet.
The '59 Cadillac represents the pinnacle of post war prosperity in the USA. At a time when the rest of the world was rebuilding, Cadillac was setting the trend for future consumerism.
The Coupe de Ville measures 18 foot 9 inches and weighs in at 4750 pounds, a large vehicle even for its day.
Cadillac's total production in 1959 was 129,923 cars and 21,924 were Coupe de Ville's. Notable options on the '59 Cadillacs were cruise control, 'Autronic Eye' automatic headlights and air suspension.
Cadillac's 1959 advertising says: "In its great beauty and majesty…in its fineness of performance…in the elegance of its Fleetwood interiors…and in the skill of its craftsmanship…it is far and away the finest fruit of Cadillac's unending quest for quality."
The '59 Cadillac is powered by a 390ci V8 petrol engine with a 4 speed Hydra-matic automatic transmission.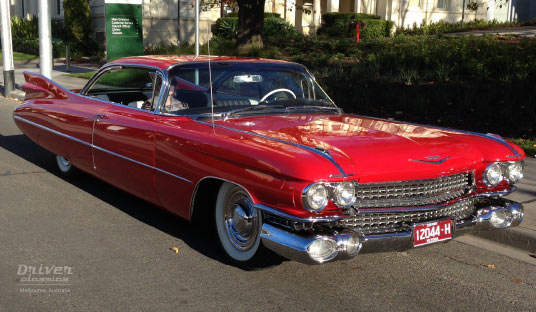 (Click on photos to enlarge) - Images free to share and distribute
---
1961 Cadillac Coupe de Ville
With its contemporary razor edge styling, the '61 Cadillac represents the epitome of carefree sixties motoring. Tail fins were lower for 1961 and were complemented by 'skegs' - long pointed fins on the lower section of the rear side panels.
The windscreen had lost the panoramic wraparound 50's look, but still featured a switchback design at the bottom of the front pillar, while the rear window was curved in a bubble type style.
Overall the '61 Cadillac range looked lighter and felt more agile than their predecessors. The combination of smaller fins and sharp edge styling resulted in one of Cadillac's most pleasing and appealing designs. Cadillac built 20,156 Coupe de Ville's in 1961 out of a total production of 112,753.
Cadillac's 1961 advertising says: "A new Cadillac car is one of the few material possessions for which there is no completely acceptable substitute".
This '61 Cadillac is powered by a 390ci V8 engine with a 4 speed Hydra-matic automatic transmission.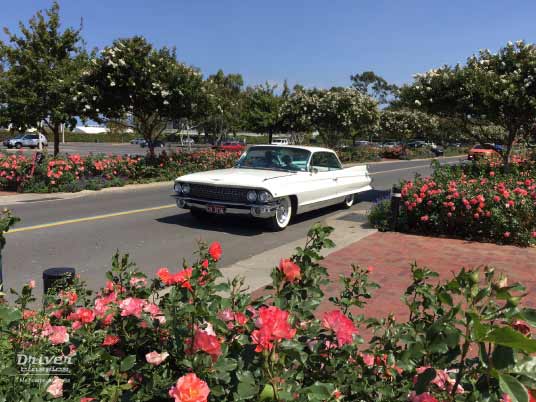 (Click on photos to enlarge) - Images free to share and distribute
---
1962 Ford Thunderbird Sports Roadster convertible
Inspired by the space age with sleek fuselage-like styling, the '62 Thunderbird earned the nick name 'bullet bird' and was a mild facelift of the '61 T'Bird.
The '62 Thunderbird Sports Roadster of which just 1,427 were produced, was able to conceal its top automatically at the touch of a button.
When fitted with a factory fibreglass tonneau (headrests included) hiding the rear seats, the '62 T'Bird had the appearance of a two seater but with the simple removal of the tonneau cover, four seats were revealed.
The rear jet inspired taillights capped off a stunningly beautiful design. Ford advertising for the '62 Thunderbirds stated: "Sparkling with original ideas, from Swing-Away steering wheel to 'floating' rear view mirror…all crafted to Thunderbird standards of extraordinary quality".
The Thunderbird shared many common traits with the '61 Lincoln Continental including headlights and the full length fender ridge.
The 'power dome' bonnet of this 1962 Ford Thunderbird Sports Roadster concealed a 390ci V8 and a 'Cruise-O-Matic' automatic transmission.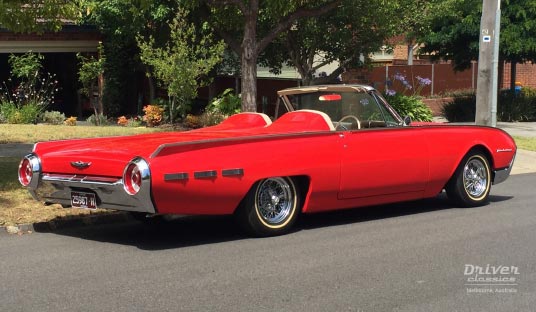 (Click on photos to enlarge) - Images free to share and distribute
---
1968 Ford Fairlane 500 (ZB Series)
The 1968 ZB Fairlane was a slightly face lifted version of the 1967 ZA model. The ZA to ZD series of Fairlanes were the first home grown Fairlanes that were designed and developed for the Australian market. All previous Fairlanes were designed in the US and assembled in Australia, usually with parts supplied from Ford of Canada.
This range of Fairlanes used the Falcon XT platform, but with a 5 inch longer wheelbase of 116 inches and an overall length of 196 inches. The front part of the car was essentially an Australian Falcon with a locally designed grille and twin headlights, while the rear panels and boot were imported and of US design. The comparable US Fairlane of the '67 and '68 era had a stacked headlight arrangement which did not appear in Australia until the ZC model.
The popularity of the Fairlane grew rapidly and it soon became a leader in its class. Cars at a similar level of luxury were often double the price. Total production for the Fairlane ZB model was 10,708.
Ford advertising at the time stated: "This is the luxury motorcar that more people move up to than any other car".
The Fairlane Custom was the base model while the Fairlane 500 was the top of the range and came equipped with "Twin- Comfort lounge" front seats, a "Mustang" V8 engine and a "SelectShift Cruise-O-Matic" automatic transmission.
The '68 Ford Fairlane 500 is powered by a Mustang V8, 302ci petrol engine with a 3 speed automatic transmission.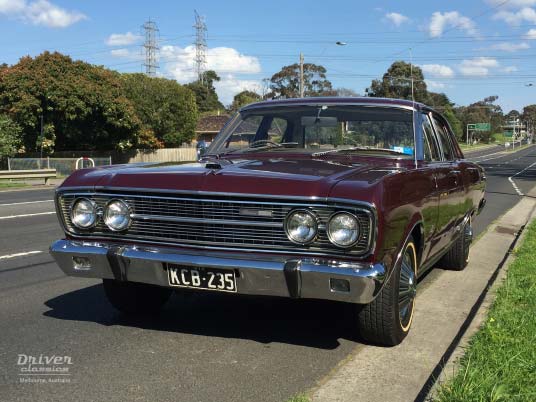 (Click on photos to enlarge) - Images free to share and distribute
---